Welcome to the J Chemical site!
Please choose your language from the flag icon on the right.
Introducing the J Chemical-patented original three layer, extremely functional film "Proguard". It is used in products ranging from food and clothing storage bags to human remains transport Ceremo Bags (body bags).
The Ceremo Bag is an impermeable bag produced using a patented functional three-layered film which prevents viral infection by sealing in infectious substances, including viruses, liquids, blood, etc. It consists of the impermeable inner bag and the outer bag, which is equipped with 8 handles. As it can safely contain a body, even one suspected of infection, the bereaved family is able to see their loved one off without infection risk. Workers are also more protected.
The Proguard Film Advantages:
Impermeable
Antibacterial – suppresses bacterial growth
Moisture proof, prevents moisture buildup
Deodorizing – prevents odors and gases passing through it
Mold and mildew preventative
Prevents insect infestation
PVC and Chlorine-Free
The Ceremo Bag is impermeable, and this type of body bag is acceptable for use with the COVID-19 virus under the the "Japanese Government's Official Guidelines for Funerals of Those Deceased (or Suspected to be From) COVID-19 and Other Infectious Viruses and Diseases":
"From the viewpoint of the feelings of the bereaved family and the identification of the body, it is recommended to use a non-transparent delivery bag with at least a transparent face. From the viewpoint of infection control, it is recommended to store the body in a non-permeable delivery bag. Impermeable means that the liquid does not penetrate, and even if the color is transparent, there is no problem in controlling infection. If the body is properly housed in a non-permeable delivery bag and properly managed, the risk of infection from the body is extremely low."
Please review a portion of our extensive material and performance testing which was done by third party testing laboratories.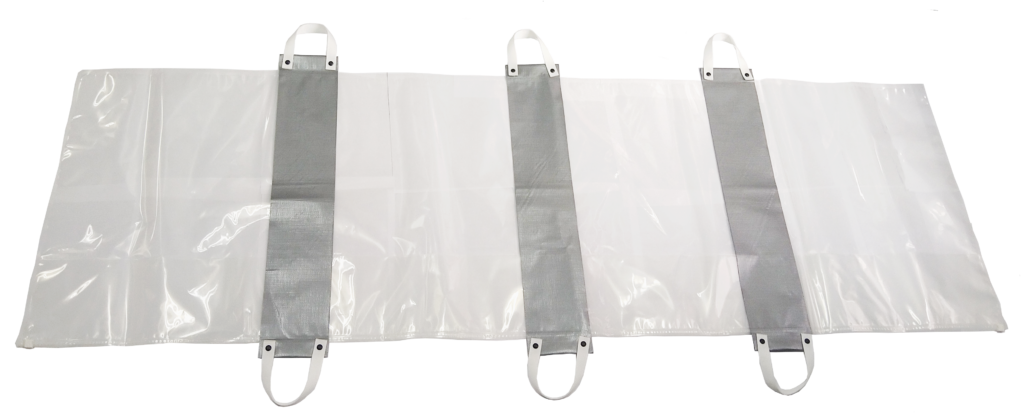 These Ceremo Bags are also supported by the Tokyo SME Center, which promotes Small and Medium Enterprises. Pamphlet is available here.
At present time, many hospitals and rescue organizations are stocking up on these bags a a preventative measure against the ever-growing new diseases and viruses.  Counties prone to natural disasters like hurricanes, earthquakes, flooding etc. as well as infectious diseases will find that keeping s supply of these bags will be essential in time of need.