Introducing the J Chemical patented 3 layer impermeable transport "Ceremo Bag".
One of the hardest things we have to do in life is to say good-bye to loved ones. With the wide spread of the deadly Corona COVID-19 Virus, hundreds of thousands of people all over the world have had to forgo their religious or personal beliefs and customs and not have the opportunity to see their loved ones off properly.
With the known and unknown risks of infection from deceased persons, families everywhere have been deprived of the chance to see their loved one's face for the last time, or even get near. We are not given proper closure.
Ceremo Bags are COVID-19 acceptable products.
The system consists of a transparent inner bag which allows viewing and an opaque outer bag with 8 handles for ease of transport.
The Ceremo Bag is impermeable, and it's functions have been included in the Japanese Government's Official Guidelines for Funerals of those deceased (or suspected to be from) COVID-19 and other infectious viruses and diseases.
New Product!
New! Ceremo Inner Bags with 6 carrying handles. This bag is the impermeable, virus and disease protection of the Ceremo Inner Bag, but now it is possible to use the Ceremo bag without a separate outer bag!
---
J Chemical supplies the following other Ceremo Bags in either:
Inner Ceremo Bag Only
Set of Ceremo Inner Bag and Outer Bag
Film only; to manufacture at the buyer's facilities.
---
Orders may be placed for either the patented impermeable three-layered film, or special requests for an OEM version of a specified size can be made to conform to your country's standards.
The diagram below shows the three layers of protection. The inner layer is the antibacterial layer, the center layer is the gas impermeable layer, which suppresses the leakage of odors and bodily fluids, and the outer layer, which is the protective layer.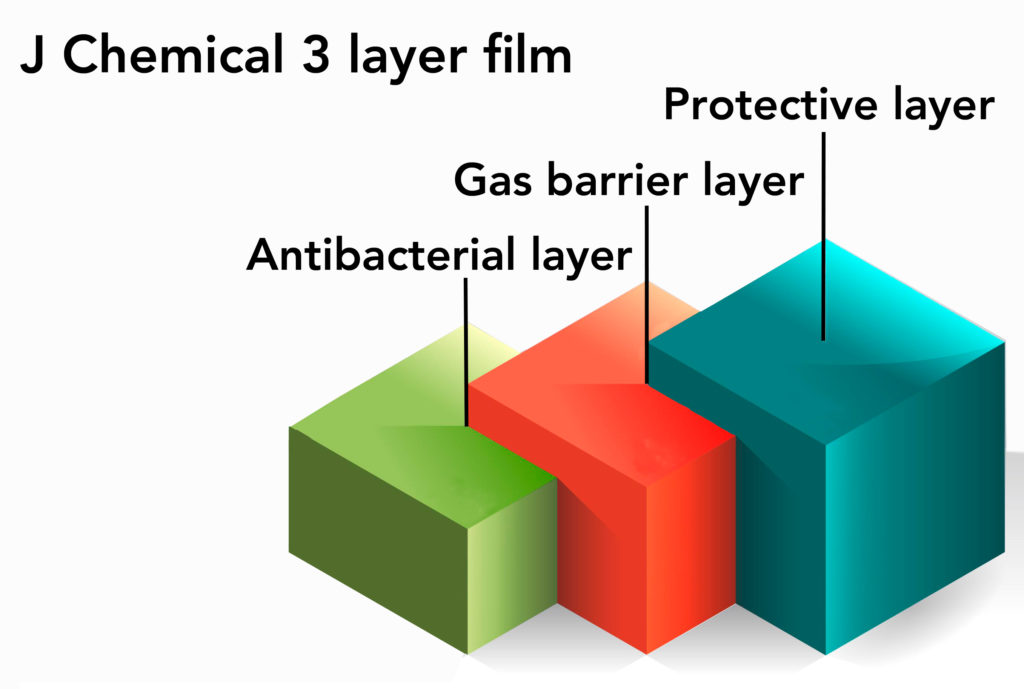 The Inner Ceremo Bag is sealed with in interlocking slide zipper. This method of sealing the bag ensures the bag remains impermeable, waterproof and antibacterial.